The festival of Chithirai Thiruvizha
The Chithirai Festival is one of the most famous and celebrated festivals in Madurai. It goes on for around fortnight and represents a re-enactment of the marriage of Goddess Meenakshi and Lord Sundareswarar (Lord Shiva). According to Legend, Lord Kallazhaga (Lord Vishnu), brother of Goddess Meenakshi, came mounted on a golden horse to Madurai from Azhagar Kovil to participate in the celestial wedding of his sister. However, he misses the wedding as he arrived late. Infuriated, he gets into the river and goes back home. The whole festival revolves around this legend.
Chithirai Thiruvizha – Celebration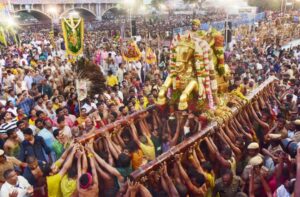 The most important celebrations happen towards the end of the festival. A chariot is decorated, which carries the two idols of the couple. It is then taken around in a procession accompanied by loud music and beats of drums. As the procession passes through the streets, devotees put forward offerings of flowers, coconuts, camphor and incense sticks. Fairs and trade exhibitions are also organized on this occasion. The festival attracts a massive crowd.
The festival is celebrated with immense excitement and the zeal of a real wedding. The celebrations spread out all over the city and the streets remain crowded with devotees. A lot of people from other cities and states reach to experience this festival. The last five witness the coronation, the procession, the Celestial wedding of God and Goddess, the Procession of temple chariots and the Return of Lord Kallazhaga.