Holidays in Andaman
Holidays in Andaman – A perfect summer vacation, Andaman and Nicobar, is an archipelago at the confluence of the Bay of Bengal and the Andaman Sea. With a series of exciting water sports, leisure facilities and a range of activities, a holiday in Andaman and Nicobar can be relaxed or full of adventure as you would like it to be. The climate is temperate for most of the year and the best time to visit is between December and May. If you're planning on going here in this summer break, here is a selection of outdoor things that will keep you busy. Pay attention to the most memorable experiences during a trip to the most exotic island of India.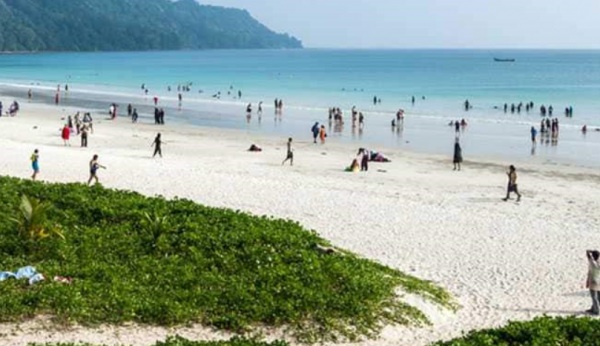 Beach number 7 (or more commonly known as Radhanagar Beach) was awarded the title of "Asia's Best Beach" in 2004 by TIME magazine. Known for its picturesque sunset, white sand and turquoise blue waters, the beach is a very popular center located on the west coast of Havelock Island. There is a water sports center on the beach where visitors can rent equipment and boats for snorkeling and diving.
One of the best beaches on the Andaman Islands, Radhanagar beach is one of the most romantic destinations to satisfy couples coming for their honeymoon. It is a well-known picnic spot where families also visit to enjoy their holidays. Nature and adventure lovers visit this island to enjoy the unspoiled landscape. In recent times, this island has encouraged tourists to visit in large numbers. It is surrounded by pristine waters where you can find turtles, large fish and dolphins. At first glance, about 500 meters from the beach, all you can see is a hint of water and trees towering around the shoreline. As you approach it, the stretch of Radhanagar beach takes your breath away and leaves you amazed!
Holidays in Andaman – cellular prison
Oh yes, the Andamans are much more than pristine beaches and icy blue waters. The next time you visit these beautiful islands, take a journey into history and see the cellular prison, aka Kalapani, in Port Blair. A colonial prison dating back to the British era, this prison today pays tribute and stands in memory of the Indian freedom fighters who spent the exile there. Immerse yourself in some stories of days gone by the locals; you will surely feel a story or two interesting. Undoubtedly, you will be reassured and with an enlightened mind. There are also Hindi and English light and sound shows held here every night, a monument to martyrs, a museum, a photo gallery, and an art gallery.
The island of Chatham
Famous for hosting one of the oldest and largest sawmills in Asia, Chatham Island is a place not to be missed. Snoop around the island and control the Chatham sawmill, established by the British in 1836. Immerse yourself in the half-timbered air of the Forest Museum through a myriad of Andaman wood masterpieces, or indulge in some forest-related activities through scale models at the museum . There is also a large crater of World War II bombs next to the forest museum. If you want to go shopping, Sagarika Emporium is a great starting point.
Saddle Peak
Located on the Northern Andaman Island, Saddle Peak is the highest point in the entire Andaman and Nicobar archipelago at a height of 732 meters. The peak is surrounded by the Saddle Peak National Park, the main tourist attraction of North Andaman. Bring out your hiking shoes and walk the 8 km long path through the beautiful subtropical forest. Discover lost temples, perennial waterways and spectacular tropical flora along the path. And yes, once you reach the summit, the views of the archipelago from above are simply breathtaking!
If you are a brave and adventurous type, you can get your adrenaline going in Andaman. Many islands here offer a wide range of water sports and activities, so you can choose to do whatever your boat is floating. Very clever word game. Port Blair has a huge complex dedicated only to water sports called Andaman Water Sports Complex. You can go kayaking, motor boating, rowing, paragliding, water skiing, windsurfing, and much more. In addition to the complex, Jolly Buoy Island, Havelock Island, Neil Island, and other places offer opportunities for snorkeling and scuba diving. As you can see, there is no shortage even for the adventurous masses.
 Mahatma Gandhi Marine National Park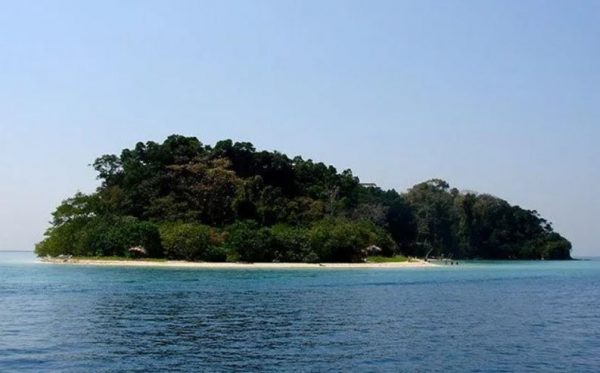 Located in the Wandoor region of the Andaman Islands near Port Blair, Mahatma Gandhi Marine National Park is a fusion of 15 small and large islands, with open inlets through the area. The islands are largely uninhabited with only a small population of 3,000 inhabitants living in 8 adjacent villages. The park was created to preserve the nesting sea turtles and corals of the area. Experience rare and spectacular corals and underwater marine life through glass bottom boats or indulge in some scuba diving and snorkeling if you are the most adventurous type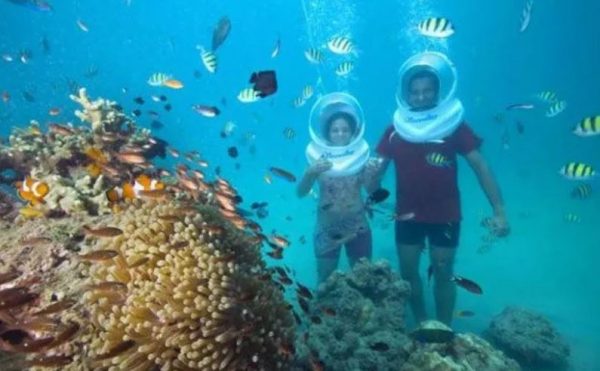 One of the most exciting experiences in Andaman, walking on the sea is walking on the seabed and seeing the brightly colored fish swimming near you! Walking on the seabed is a fairly unique but simple activity – much simpler than scuba diving as no breathing techniques are involved. Furthermore, it is not necessary to have any swimming skills to indulge in this delightful activity and it is safe to have fun for children aged 7 to 70! The full-face window in the helmet of the sea walker offers a close-up view of beautiful orange clownfish, sea anemones, starfish, and crustaceans that swim around.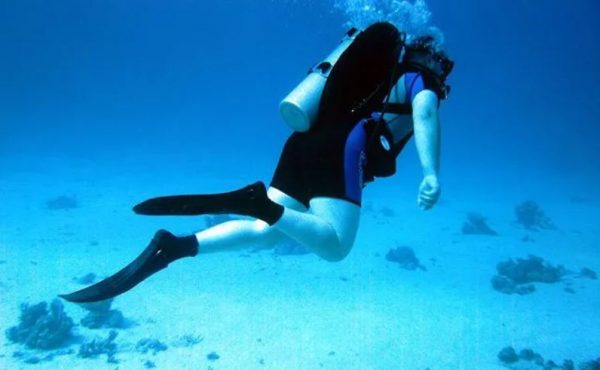 The Andaman and Nicobar islands are one of the most exotic and remote destinations in the world. The archipelago includes over 500 islands and probably has one of the richest reef ecosystems in the world! Needless to say, for fans of snorkeling and scuba diving, the Andaman Islands are nothing short of heavenly. The underwater world here offers countless species of marine life, coral reefs, remains of old ships and hills created by volcanic lava. You can choose from a variety of dive sites around Havelock Island, Cinque Islands, Corruption Rock, Fish Rock and the Mahatma Gandhi Marine National Park in Wandoor.