Tour in south India
Program Preview
Chennai-Kanchipuram-Mahabalipur-Puducherry-Tanjore-Madurai-Periyar-Kumarakom-Aleppy-Cochin
---
DAY 1, Arrival In Chennai – Tour In South India
Arrival in Chennai handling customs formalities, meeting with the guide, transfer and hotel accommodation. Lunch at the hotel. In the afternoon the first panoramic approach to ancient Madras, now Chennai, the fourth largest city in India in terms of size and importance: the monuments include the church of San Tommaso, whose first nucleus was founded in the 10th century by the Christians of Persia who here the body of the saint was buried, the temple of Kapaleeshawer, dedicated to Shiva and characterized by the typical tower architecture, the National Gallery and the Governor's Museum. Return to hotel,
Overnight at Hotel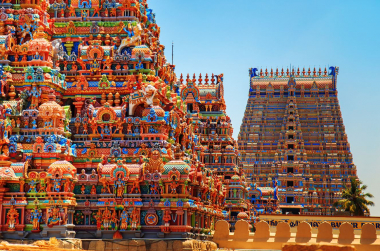 ---
DAY 2, Chennai-Kanchipuram-Chennai – Tour In South India
Late morning departure to visit Kanchipuram, the "golden city of a thousand temples", 70 km from Madras, rich capital of the Pallava dynasty and still famous today for silk production. Visit the ancient temples, Kailasanatha, Kamakshi, Vaikunthanperumal, built in the 7th-8th century, the heyday of the Pallava art, and Ekanbaranathar, the later and main temple of the sacred city, with a high entrance tower, gopuram, well 59 meters decorated and sculpted between the 14th and 16th centuries, under the Vijayanagar dynasty.
Overnight at Hotel
---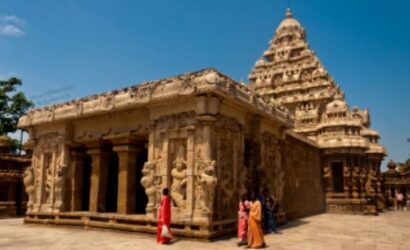 DAY 3, Chennai-Mahabalipuram-Poncdicherry (160 KM/6 Hrs.)
– Tour In South India
Departure for Mahabalipuram, an ancient port on the Coromandel coast, one of the most important archaeological sites in India. A short distance from the sea, there is the small and harmonious Shore Temple, "temple on the beach", two sanctuaries dedicated to Shiva, the highest expression of Dravidian Pallava architecture. Visit to the magnificent monolithic temples and bas-reliefs of the 7th-8th century, among the first examples of monumental art of southern India; among these, the masterpiece, the "five wagons" complex dedicated to the five Pandava brothers, heroes of the Mahabharata (the most important and ancient Hindu epic poem) and their bride Draupadi: five chariot-shaped temples, each entirely "carved" in a single block of rock. Continuation to Pondicherry, an old French colony and an ancient trading port in Roman times. In the afternoon visit of Auroville (10 km from Pondicherry), a city conceived as a tribute to Sri Aurobindo, Indian philosopher and founder of the "center of integral yoga", famous throughout the world. Here is the Matri Mandir, center of the "dawn village", dedicated to meditation.
Overnight at Hotel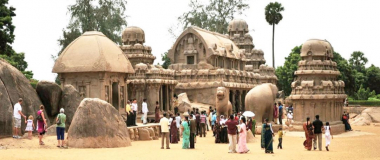 ---
DAY 4, Pondicherry-Kumbakonam (170 KM/5 Hrs.) – Tour In South India
Departure for Kumbakonam, with a stop at the Chidambaram religious complex (around 70 km), a true masterpiece of Dravidian architecture and one of the most sacred in India, dedicated to Nataraja, the Dancing Shiva. Continuation and accommodation at the hotel in Kumbakonam. In the afternoon, visit of Darasuram, known for the Airavateshvara temple, built in the 12th century by Rajaraja II, king of the Cholas. This temple, a UNESCO World Heritage Site, with the high vimana (central tower of the sanctuary), the main mandapa (anteroom) shaped like a horse-drawn cart, the beautiful wooden carvings and wall paintings, is a true treasure chest of art treasures and the greatest example of the architecture of the powerful Chola empire. At the end of the visits, a single excursion among the local villages on board a typical ox-cart, a very widespread means of transport in these areas, for a real contact with the rural lifestyle of the inhabitants of this area.
Overnight at Hotel
---
DAY 5, Kumbakonam -Tanjore – Kumakonam
Transfer to Tanjore, called "the Tamil Nadu rice bowl" because it is located in an area rich in rice fields. Visit of the city, ancient capital of the Chola empire, with the main monuments: the Briadeshvara Mandir, the sanctuary dedicated to the god Shiva erected at the beginning of the 11th century, and the royal palace of the 16th / 18th century, a complex of buildings among which is the Saraswati Mahal, dedicated to Sarasvati, the goddess of knowledge and the arts, one of the most important libraries in the country. Visit the Temple of Srirangam, a true sacred city with seven walls (sacred number to Visnu) and 21 gopuram. Completion of visits with a stop at a female brick-processing cooperative.
Overnight at Hotel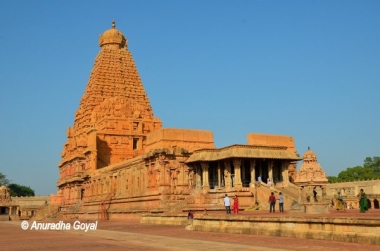 ---
DAY 6, Kumbakonam-Madurai (220 KM/ 4 Hrs.) Tour In South India
In the morning departure to visit a village of Chettinadu, whose inhabitants "Chettiars" were renowned sea traders who got rich during the English colonial expansion. Today the village is known for the unique style of the architecture of its luxurious palaces, adorned with Indonesian ceramics, built with Burmese teak columns, covered with Italian marble and furnished with European furniture. Transfer by coach to Madurai, one of the oldest cities in southern India, for centuries a place of pilgrimage and sacred city of Brahmanism, the heart of Tamil culture. It owes its name to the "madu", the divine nectar poured from the hair of Shiva. Ancient travelers described it as a city rich in treasures and lavish markets.
Overnight at Hotel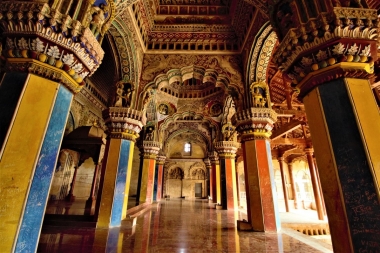 ---
DAY 7, Madurai Tour In South India
Early in the morning, visit the typical Flower Market and continue with a view of the Ghat Dhobi, the river stairway considered the largest outdoor laundry, where you can soak in the aspects of daily life of the local population. Visit of Madurai: the Meenakhsi temple, with the famous "hall of a thousand pillars", where you can admire the exuberant Baroque phase of Dravidian architecture; and the Tirumal Nayak's Palace, a perfect synthesis between northern Islamic art and southern Dravidian architecture. Return to the hotel and dinner. In the evening transfer by tuk tuk to attend the ceremony of the sleep at the temple of the goddess Meenakshi, venerated here for over 2000 years: the suggestion that springs from this ancient rite, followed by a procession of faithful and in which Shiva goes to Meenakshi's home – the "fish-eyed goddess" – is intense and unforgettable.
Overnight at Hotel.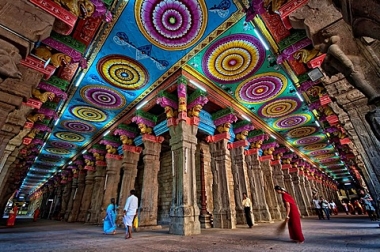 ---
DAY 8, Madurai – Periyar (140 Km/3 Hrs.) Tour In South India
Pensione completa. Dopo la colazione partenza per Periyar, il cui parco nazionale è uno dei più estesi dell'Asia con i suoi 800 kmq, ad altitudine variabile tra i 1000 e i 1800 metri, al confine tra Tamil Nadu e Kerala. Il Lago Periyar, artificialmente creato dagli inglesi alla fine del XIX secolo, per rifornire Madurai di acqua attingendo dal fiume omonimo, è circondato da un ambiente naturale selvaggio, in cui vivono scimmie, elefanti, gaur (bisonti indiani), cervi e numerose specie di volatili. Nel pomeriggio proseguimento con la visita alla piantagione del the, dove si potrà assistere alla lavorazione con la possibilità di una degustazione. Sistemazione in hotel e pernottamento.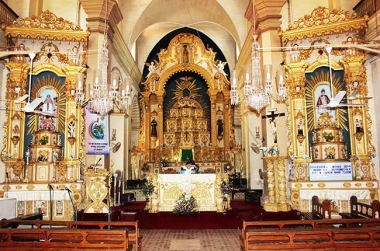 ---
DAY 9, Periyar – Kumarakom (148 Km/ 4 Hrs.)
After breakfast, visit a spice plantation and continue to Kumarakom. Upon arrival, accommodation in the hotel. In the evening a short sunset cruise.
Overnight at Hotel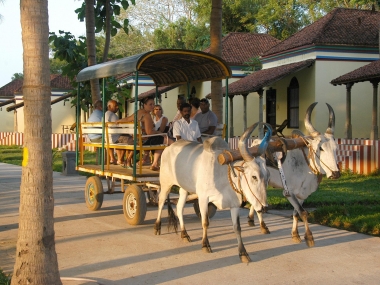 ---
DAY 10, A Kumarakom
Full day dedicated to relaxation.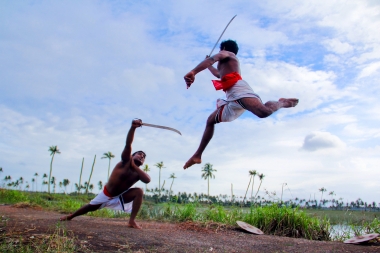 ---
DAY 11,  Kumarakakom-Alleppy – Tour In South India
In the morning transfer to the pier and embarkation for Allepey. During the navigation we cross the backwater, an immense network of lakes, lagoons and fresh water channels that develops between reeds, paddy fields and palm groves and that characterizes most of the south coast of Kerala. Here life takes place almost entirely on the water: the waterways are often the only way to reach the villages built on thin strips of land; canoes, boats and boats, like the typical kettuvallam, often real floating houses, animate this world of its own, surrounded by lush and dense vegetation, inhabited by numerous species of birds, such as the elegant cormorants. Arrival in Allepey.
Ovenight in Houseboat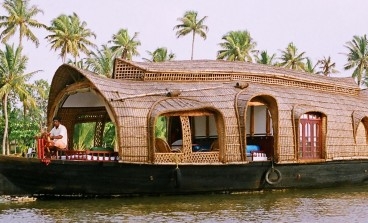 ---
DAY 12,  Alleppy-Cochin (65 Km/1 Hr.) – Tour In South India
Tansfer and departure for Cochin, world famous port and commercial and industrial capital of Kerala. In the afternoon visit to Mattancherry, the Palace of the Dutch, but originally built by the Portuguese, with its beautiful wall paintings, which depict mythological episodes in bright colors. Not far away is the Church of San Francesco, the first European church built in the town, which houses the tombstone of Vasco de Gama, who in fact remained buried here from 1524 until 1538, when his remains were taken to Portugal. In the evening we will witness a spectacle of typical Kerala dances, the Kathakali.
Overnight at Hotel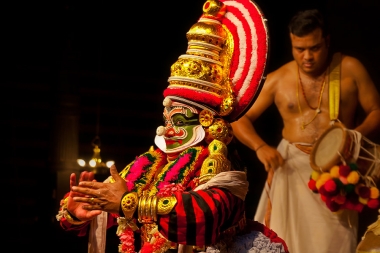 ---
DAY 13,  Da Cochin All'Italia
After breakfast the day begins at 9.00 am
Transfer to Cochin airport according to flight schedule ..
Departure for Italy
Ciao India Tours wishes you a pleasant Journey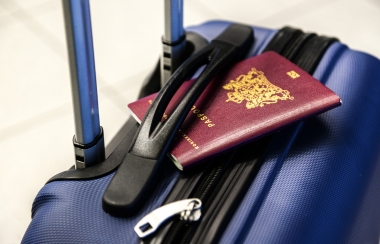 ---