Best places to visit in Kolkata
Best places to visit in Kolkata – Kolkata (Calcutta) is a city located in the state of West Bengal, on the eastern border of India. It is a huge city that is teeming with endless streams of traffic horns, businesses, restaurants and street food, and a share of attractions. Visit Calcutta and to explore the city and visit some interesting places. Known as the "City of Joy", here are some of the best things to do in Calcutta!
Best places to visit in Kolkata – Madre Teresa House
Mother Teresa, an Albanian Roman Catholic missionary, did a lot of work in India, especially in the heart of Calcutta. His former home and charity in Calcutta are now known as the Mother House, and within the modest mission is the tomb of Mother Teresa. After having respected, you can walk through a small museum that exhibits some of his personal effects and proceed to climb a flight of stairs to see in the room where Mother Teresa wrote letters, lived and prayed.
Best places to visit in Kolkata – Temple of Kalighatkali
Kolkata was named after this temple and chiefly because of this fact, hundreds of visitors are fascinated by this temple every day. A classic showcase of Kolkata itself, the temple is a heady mix of dirt, crowds, and spirituality. Kalighat is a mad, smelly, dirty, wonderful, vibrant, crazy place that is really like the beating heart of this city of poets and dreamers. If you love Kolkata, you'll love Kalighat. Every year, goats and other harmless animals are sacrificed to please the mighty goddess Kali. Even when she is pleased, you are not forgiven for the long wait to get a glimpse of the deity.
Best places to visit in Kolkata – South Park Street Cemetery
Today, it is no longer in use and is a heritage site. The memorials too are known for their imposing architecture replete with sculptures and fine details.  It makes for a beautiful capture for a photographer. Even though the cemetery holds historical importance and is visited by many every day, it is believed to be haunted too. Also, Read – These Stunning Photos of Kolkata Will Tempt You to Visit the city of Joy
Many people have felt dizzy or fallen sick after coming here, people have captured weird structures on their cameras or complained of breathlessness even though they don't have any breathing problems. Some have been spooked later after a visit here. There are others who haven't felt anything but those who have experienced something strange cannot shake off the eerie feeling.
Best places to visit in Kolkata – New Market (Sir Stuart Hogg Market)
One of the best things to do in Calcutta is to explore the market of Sir Stuart Hogg, which is more commonly referred to as the New Market. Within the market itself, it is a bit like any other market in the world, there are sections for anything you may wish. But the real beauty of the New Market is the chaotic action that surrounds the market from all sides.
Delicious restaurants, Kolkata street food stalls, handcart transporters, and swarms of people are some of the interesting things to observe. The action never seems to slow down. If you are staying in the famous backpacker area of ​​Sudder Street, the New Market is just a 1-minute walk away.
Best places to visit in Kolkata – Victoria Memorial Hall
Instead of being in West Bengal, when you visit Victoria Memorial Hall, you'll feel like you've been transported to Europe. The iconic Calcutta structure is dedicated to Queen Victoria of the United Kingdom, who is also called empress of India.
Along with its British and European architecture, the room also includes some elements of Indian Mughal design. The Victoria Memorial is 103 meters long, 69 meters wide, and 56 meters high. The Victoria Memorial is now open to the public for its surrounding gardens and interior museum.
Mullik Ghat flower market
Located directly below the Howrah bridge is the vibrant Mullik Ghat flower market. The market, which is open all hours of the day, is a lively scene of yellow and orange flowers. Vendors and porters walk and run continuously up and down the market, auctioning off their supplies. It's a great place to take pictures.
Crossing the Howrah Bridge, which is one of the busiest pedestrian bridges in the world, is another of the best things to do in Calcutta. After exploring and observing the flower market, take a walk across the bridge to admire stunning views of Calcutta, the Hooghly River, and the constant flow of people crossing the bridge while carrying gigantic loads.
 Belur Math
Unlike the constant chaos and scams around the Khalighat Kali temple, Belur Math is clean, quiet, safe, and a perfect place to relax. The temple, located on the banks of the Hooghly River (branches off from the Ganges), was founded by Swami Vivekananda and is now the headquarters of the religious organization Ramakrishna Math. The temple incorporates Hindu, Islamic, and Christian architecture and design.
You can choose to walk around the gardens and, if you choose to enter the temple, you can leave your shoes (for free) at the shoe desk. Photography is strictly prohibited at Belur Math and they have many security guards who make sure you don't take pictures.
Best places to visit in Kolkata – Terreti's morning market (Bazar)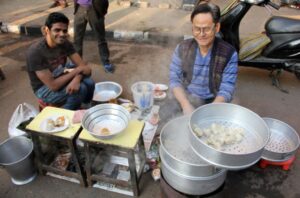 Kolkata's Terreti Bazaar is a Chinese breakfast street food market that sells some truly delicious and authentic Chinese food.
Kolkata has an extremely rich Chinese heritage. The city saw an influx of many people from China come and settle in during the late 1700s when Kolkata was a beacon of commerce and culture in the Colonial Era. They came in search of better fortune and ended up creating a huge Chinese community in what was then Calcutta. Their community, although not as thriving now since many of the descendants have moved away abroad or other cities, is still very much a part of present-day Kolkata. One of the most unique ways you can experience this is by checking out the Terreti Bazar breakfast market.
Kolkata Street Food
Best places to visit in Kolkata, there are many things to do and see in Calcutta, but as a lover of all foodstuff, there is nothing more rewarding than hitting the sidewalks for a bite of Calcutta street food.
Sellers are friendly and willing to serve you with their delicious creations. From a man who makes snacks like ghugni chaat and pure bread, to complete meals of rice and curry, your taste buds will rejoice. After filling, don't forget to breastfeed a cup of chai in a clay cup or drink a mango lassi.